Minnesota engagement photographer, Trisha Spencer, is based in Little Falls, but travels to destinations around the world bringing out the sweetest and most authentic versions of her clients.
"I love love. I love how everyone has a story. And I LOVE when I get to make that story come to life in the most beautiful ways. My goal is to not just take pretty pictures, but to create art that evokes feeling. I honestly believe a pretty picture is meaningless if it doesn't have emotions attached. Of course, happy, loving emotions is what I aim for;) I want my couples to actually feel more in love when they see their relationship from the other side. The side without any insecurities, doubt, or past issues lingering. The simply beautiful side of a relationship that I get to hone in on. My hopes is that their engagement session, as well as their wedding story, will trigger feelings of joy, love and promise when they need a good reminder in the future. I know that's a very high hope, but I also know how powerful a good photograph can be!"
The following session shows Trisha's style and skill level when conditions aren't ideal. Cold Minnesota weather, half snow/half dead grass in the late Fall, a mini session with just one outfit and limited time. "It's easy to take a beautiful picture when conditions are perfect and the people are models, but that's not real life. Real life isn't perfect, and most couples are not natural posers when a camera is pointing at them. Then throw in good ole Minnesota that offers just a handful of perfect days a year weather-wise. If weather is ideal it tends to be windy or we're blessed with mosquitos. Otherwise we get to endure the cold (and I mean below zero COLD in the heart of winter) or hot humid summer days. I used to complain, but I learned it didn't get me anywhere lol. Now I embrace it and use it all as part of the story-line."
Meet Becca and Tom everyone… aren't they beautiful!!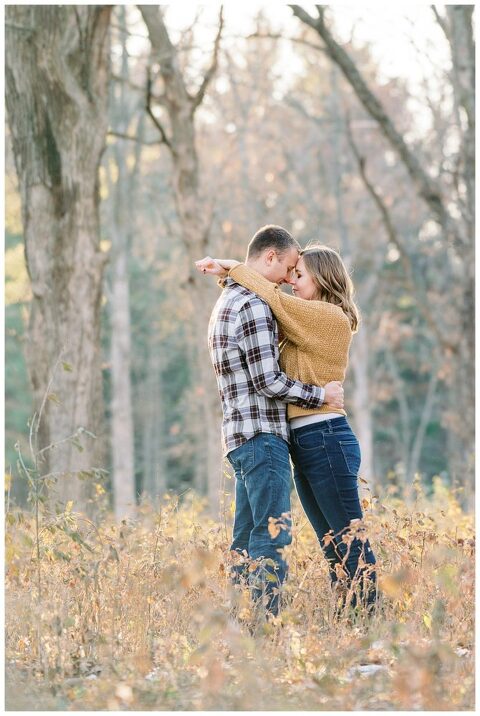 Here are a few more engagement sessions in Minnesota and fun Destination Engagement Sessions to maybe light a fire in your adventurous side;)
POINT REYES, CALIFORNIA ADVENTURE ENGAGEMENT SESSION
ARIZONA ENGAGEMENT SESSION WHERE HE PROPOSED
NORTH SHORE MN SESSION WITH DOG AND VINTAGE CAR
AN ADVENTUROUS ALASKA ENGAGEMENT SESSION
A WARMER FALL ENGAGEMENT AT THIS SAME LOCATION IN LITTLE FALLS, MINNESOTA
A WINDY NORTH SHORE ENGAGEMENT AT SUPERIOR SHORES RESORT AND GOOSEBERRY FALLS
A SURPRISE WINTER PROPOSAL AT RICE CREEK, LITTLE FALLS, MN
MADELINE ISLAND, WISCONSIN, SURPRISE PROPOSAL TURNED ENGAGEMENT SESSION
TWO BIKERS CELEBRATE THEIR ENGAGEMENT IN THE BLACK HILLS OF SOUTH DAKOTA, STARTING AT SYLVAN LAKE THEN HEADING UP NEEDLES HIGHWAY IN CUSTER STATE PARK