Is there anything better than an adventurous engagement session at sunset, after a rainstorm…and on an island?! I don't think so!! Madeline Island never ceases to amaze me. It's one of my favorite places to explore and relax with my little girl. I even insisted on my mom joining in on this adventure.
Addie and Trevor had a trip planned to the island so they could visit their soon to be wedding venue and meet some of the local vendors. They decided it would be fun to celebrate and document their engagement at the same time (mulit-taskers;), so I happily joined them and their dog for the last bit of sunshine before the ferry headed back to Bayfield. Aside from the flies and mosquitos, who also apparently love the post-rain atmosphere as much as me, it was the most beautiful evening.
One of my earliest memories of the island was sitting in the hot tub at the Inn on Madeline Island and watching couples get married on the lawn overlooking the lake — now it's our turn. 

Addie
Why did you choose Madeline Island for your destination wedding location?
Trevor & I met in high school and spent a few summers coming up to Madeline Island to spend time with our friend group. Some of our earliest memories were cliff jumping at Big Bay State Park and canoeing in the lagoon. When we started dating  in college we'd come up for the 4th of July and watch the parade, kayak the sea caves & stay for the fireworks. After 4 years, Trevor proposed in the Bahamas on a big vacation surrounded by some of our best friends. We went back and forth trying to decide where we'd get married but found no place to be as beautiful (& memorable) as Madeline Island.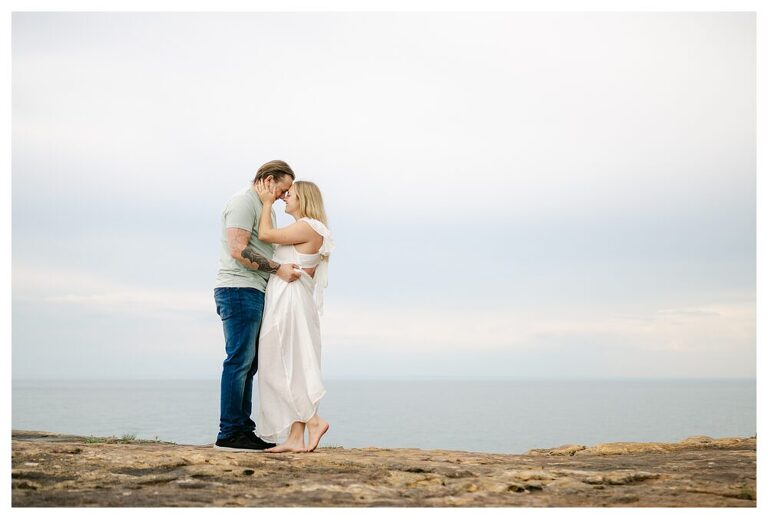 Want to see a couple weddings on Madeline Island photographed by Xsperience Photography, click here: small wedding on the island
Madeline Island Airbnb Wedding