Crystal and Aaron couldn't have had better timing to capture Minnesota's beautiful Fall season. They celebrated their wedding at Pine Peaks Event Center in Pine River. Pine River is located just north of the well-known Brainerd Lakes area, home to many of Minnesota's best Destination Weddings! The countryside provides a quiet, nature-filled, atmosphere that outdoorsy couples desire and love.
Everything about our wedding day was perfect. The sun came out and It turned into an absolutely beautiful day. We had so much fun celebrating with friends and family. 

Crystal
WHY DID YOU CHOOSE PINE PEAKS WEDDING EVENT CENTER?
We chose Pine Peaks because it fit our style; outdoorsy, fun, beautiful, with a touch of elegance. This was our top venue choice after searching online. Pine peaks was the first and last venue we looked at. We instantly knew we loved it and did not need to look any further. It had everything we wanted in one location; Ceremony, reception, caterer, bar, fire pit, space for outdoor games, parking, late night pizza, treasure chest of decorations to choose from, guest house for the entire weekend, wood burning sauna, RV hook ups, getting ready suite for the bridal party, and many more features all included! 
WHAT DID YOU HOPE YOUR WEDDING DAY WOULD LOOK OR FEEL LIKE?
Our goal for the day, besides get married, was for everyone to have fun while helping us celebrate our special day! 
ANY BIG HONEYMOON PLANS?!
Our plan was to leave for our honeymoon the following week. We were going to visit three of the islands in Hawaii over 2 weeks with multiple excursions planned as well. Unfortunately, I ended up in the hospital 2 days after the wedding with a pretty nasty cat bite that required a 4 night hospital stay and 2 weeks of IV antibiotics, followed by 2 weeks oral antibiotics :/  We had to cancel our trip and we hope to re-plan in the future. I took this "in sickness and in health" a little too seriously right after the marriage!  Aaron has been the most patient and caring husband anyone could ask for. He has mastered giving me my IV antibiotics and all activities of daily living that I currently can not do by myself due to one arm in a splint and the other with my IV line. 
We are so excited to spend the rest of our lives together and make more memories!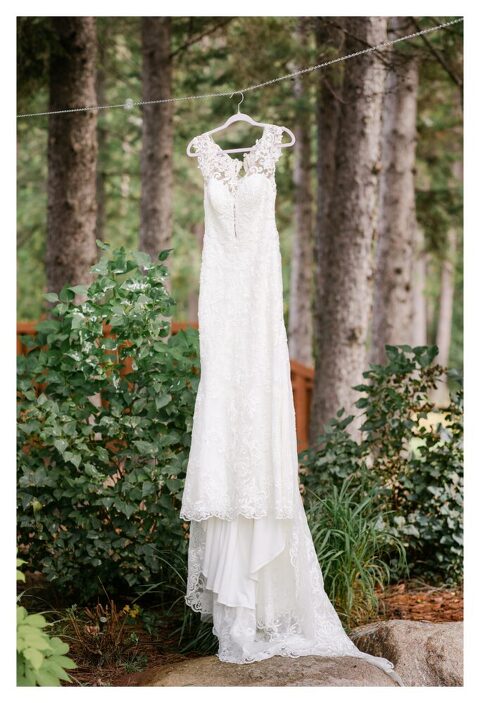 MINNESOTA WEDDING VENDORS
Photography and Video | XSPERIENCE PHOTOGRAPHY, Little Falls, MN
Minnesota Destination Wedding Venue | PINE PEAKS WEDDING AND EVENT CENTER, Pine River, MN
HMUA | CAPTIVATING BEAUTY
DJ | CAPTAIN JACK ENTERTAINMENT, Forest Lake, MN
Florals | CELEBRATIONS FLORAL DESIGN, Brainerd Lakes Area
Cakes and Pies | SCHAEFER'S FOODS
Wedding Dress and Bridesmaids dresses | THE WEDDING SHOPPE, St Paul MN
Men's Attire | MENS WEARHOUSE
Officiant | DISNEY RAMPERSAD