The story of Eliza and Aaron begins with family, friends and feathers. 
Meeting at a poultry conference, Aaron and Eliza were paired together by a professor and hit it off right away. The chemistry was undeniable and lead to their first date at a local drive in movie and quickly accelerated to date #2 at Aaron's family wedding.
From there began a four year streak of long distance love as both started their careers in the poultry industry. 
They are eager to explore the next chapter of newlywed bliss together. Living states away from their family and close friends, they embark on a journey of trust and faith together. Living in sunny North Carolina, only miles from the mountains or the ocean, their love blossoms each day as they continue to learn about each other each day. 
"Set me as a seal on your heart, as a seal in your arm; for stern as death is your love, relentless as the nether-world is devotion; it's flames are a blazing fire. Deep waters cannot quench love, not floods sweep it away." 
Song of song 8:6-7
WORDS FROM THE BRIDE
Neither Aaron nor I slept much the night before the wedding… we were just too excited to sleep! My nerves were calmed when Aaron texted me the morning of our wedding saying, "It's going to be the best day of our lives." At the end of the night, we looked at each other and agreed; it really had been the best day of both our lives. Over 400 family and friends had traveled from near and far to celebrate us. We are incredibly grateful for their love and support. The day was perfect. The ceremony was beautiful, the food was delicious, the dance was delightful! And of course, the photographer was top notch 😉
What was your favorite part of the wedding day?
There were so many perfect little moments during the wedding day that made it so wonderful. Even though I did not originally want to do a first look because I imagined it would feel "fake", it turned out to be one of the best parts of the day. It was one of the only times during our wedding day that it felt like it was really just me and Aaron. It was a very genuine moment, and a memory that I will always cherish.
Instead of a bouquet toss to single ladies, I did a stuffed chicken toss to anyone who wanted to play! It was so fun. Russ shouting "chuck that chicken!" is a memory that will live on in my family for decades, I am sure!
Will's homemade pizza at 10:30pm rejuvenated me to get me through the end of the dance! In that moment, it was the best pizza I had ever tasted.
Why did you choose the venue/location?
Aaron and I knew we wanted a big wedding in central Minnesota, and we knew we would be planning our big day from across the country so we needed a venue that would work with us from a distance. The Falls Ballroom was the perfect choice–it is a beautiful space with all-in-one service. It provided our delicious meal, full bar, and big dance floor. It was a perfect full-circle moment, as well, since my first job ever was working as a server at the very same Falls Ballroom. Will was as wonderful to work with planning my wedding as he was when he was my first boss. We did not stress or worry about our reception, from the planning stages through the end of the dance on our wedding night!
What was your goal when planning your wedding?
Our faith is very important to us, so Aaron and I wanted a sacramental marriage in the Catholic church. Our ceremony was beautiful, and once it was done, we were ready to party! We wanted good food, drinks, and conversations, and of course, LOTS of dancing!
Any tips or advice for engaged couples?
I wish we would have documented our planning more, through videos, photos, or a journal. Even though it felt like an insurmountable task just to complete the planning (let alone document it), a couple's engagement is a really special time that they only experience for a short period of their entire relationship. 
Honeymoon plans…
Immediately following the wedding, we traveled to Atlanta for a poultry conference (chicken nerd alert). We are planning a "real" honeymoon this summer in Ireland (and maybe Italy or Switzerland?).
Goals for married life…
We are so excited to get into the rhythm of married life. I have 1.5 years left of my residency at North Carolina State University, then we will figure life out depending on where I get a job! We are hoping to have a garden this year, and we need to get on it soon because plants are already starting to bloom here in North Carolina!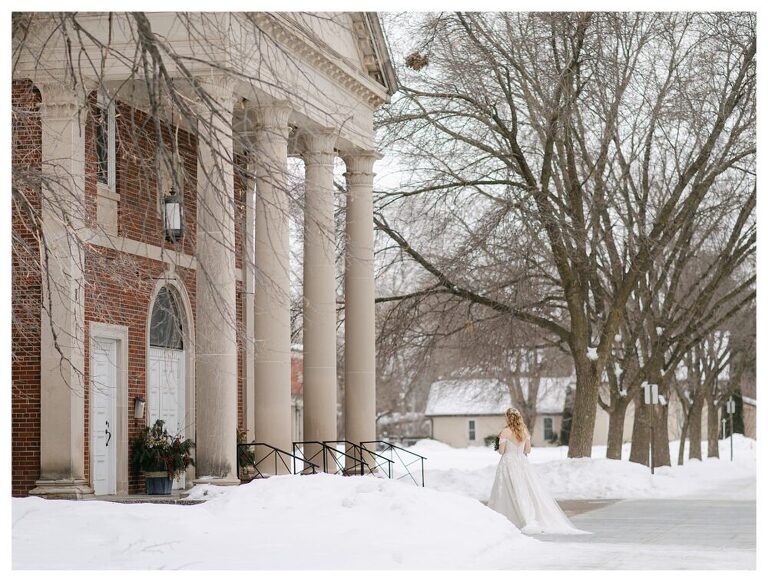 Minnesota Wedding Vendors
Photo + Video | XSPERIENCE PHOTOGRAPHY
Reception Venue + Catering | FALLS BALLROOM, LITTLE FALLS MN
Decorator | DEES DECORATING, LITTLE FALLS MN
Florals | BUDS TO BLOSSOMS, ROYALTON MN
Hair | MOTIF SALON, PAULETTE MARCYES
Bride's Dress | JACKIE J'S, ALEXANDRIA MN
Bridesmaids Dresses | BALTIC BORN
DJ | NORTH STAR ENTERTAINMENT, RUSS AND JEANETTE THOMPSON