This 10 Year Vow Renewal at Superior Shores Resort in northern Minnesota is such a true reflection of life. You can envision your future. Plan away. But in order to truly enjoy it, you need to accept the unpredictable, embrace what "is", and even better yet, smile through it all. Our plan for a beach picnic turned into a warm, cozy cabin picnic. Our plan for sunset photos on the cliffs, turned into an adventure of its own with high winds, rain and splashing waves on the rocks. Our plan to end around a campfire turned into snuggles in front of the fireplace. Even with the last minute changes (we won't mention the dress situation lol) Carrie and Mark embraced the evening for what it is… a moment to love each other, their daughter and their life they created together.
What inspired you to do a vow renewal after 10 years of marriage?
We got married when we were 19 years old shortly before Mark deployed. We originally thought we wanted a larger wedding but with time restraints and living in separate states it was difficult to plan. Looking back we have zero regrets with the size and manner of our wedding day. A vow renewal had always been in the backs of our minds. We knew it was something we wanted to do and it made sense to do it after 10 years. There really wasn't a lot of decision making entailed. We just knew it felt right for us.
Why did you choose the North Shore?
Since we can remember the north shore has been our "place". We originally were married in 2011 along the shore near Bluefin Bay resort. Since then we have made it a commitment to return every year for a few days. The north shore has always had a way of settling our souls, helping us return to focus, and reminding us of where we began.
What do you believe is the secret to a happy marriage?
1. There is no secret. There's just a lot of hard work, commitment, and love.
2. Keep choosing each other, even when things aren't perfect. (spoiler alert: nothing is perfect)
3. Always say I love you. Even when you're upset, annoyed, angry. Say it. I promise you won't regret it.
But seriously how incredible is this sweet little family. Carrie's laid back nature, Mark's kind demeanor and Charlie's curiosity and zest for life are a recipe for a long-lasting, happy life together!!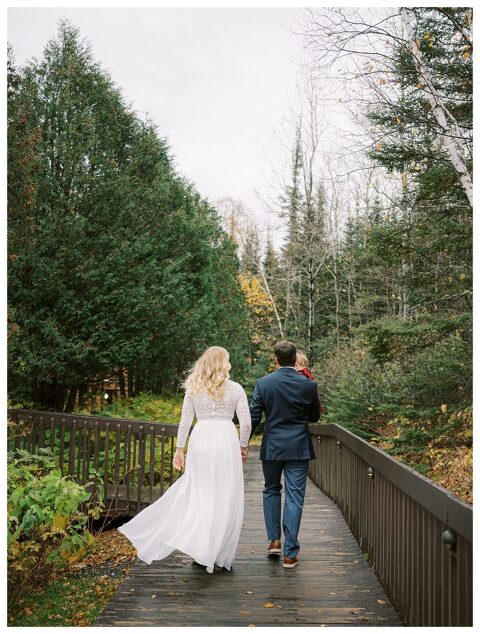 Lodging: SUPERIOR SHORES RESORT, Two Harbors, Minnesota | Planning, styling and florals: ELOPE WEST | Photographer: XSPERIENCE PHOTOGRAPHY, Little Falls, MN | Dress: LULUS.COM | Baby and puppy sitter: LAYNA (photographer's daughter:)