My last wedding of 2021 and it couldn't have been a more perfect ending to a busy season! I headed to Brainerd, Minnesota to meet Jordan and her ladies at this amazing Industrial wedding venue, Northern Pacific Center, and was greeted like this…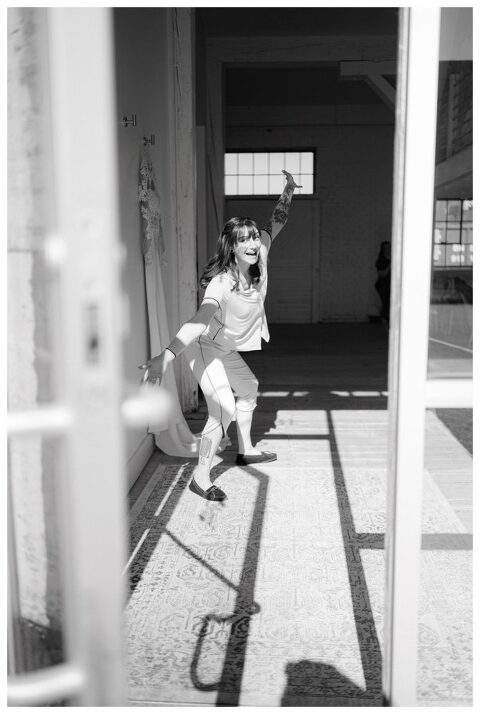 It only went up from there!! The atmosphere was casual with just the slightest hint of nerves and anticipation. The ladies were laughing and playing around (it helped that almost all of them were sisters;) while I was given my creative space to document the natural light and beauty the ladies getting room and Jordan's vintage details provided me.
I then visited the men in their Industrial style getting ready room across the parking lot. They were equally as chill. I kinda forgot I was working for a minute. Ok…not quite…the 50 pounds of camera gear on my back reminds me otherwise. After hand-writing their vows and getting their handsome boys ready, the fun began. Or wait…we were already having fun the entire time so I should say, the fun continued!! When Jordan's oldest boy found one of the only puddles and jumped in it with his white shoes BEFORE family photos even began, I looked over at her to catch her expression and she just said with a sly smile, "boys will be boys". Yeah she can be my bride every weekend!! You really must view their story unfold through photos. So many of these were captured naturally with very little or no posing and they still portray so much beauty and love at the same time.
How did these two lovebirds meet?
"Although we lived in the same small town of 600 people growing up and hangout with the same friends through high-school we didn't meet until his first year of college. We met at a party, he tried to be smooth and talk to me but instead asked "why I was standing there so weird" somehow I still ended up getting ice cream with him the next weekend and we've just been best friends since.
What do you love about each other?
"The best thing about me and Gage is how we compliment each other. He often forgets that life can be fun and I'm always here to remind him to take it easy. Im so forgetful and not very organized and he always has a gentle reminder for me and an organized system to handle whatever task I'm dancing my way through."
What was your favorite part about your wedding day at Blacksmith Main?
"Our favorite part of the wedding was doing exactly what we wanted that day and that would be my advice to couples through the planning process and on the wedding day. We invited who wanted, had our wedding where we wanted, and planned it the way we wanted, nothing more or less. At the end of the night we had the best day full of love and we got to party it up with our closest friends. Couldn't have asked for anything more!"
PHOTOGRAPHY: Xsperience Photography | DESSERTS: Cookies from NOMES Sweets and Treats, ice cream from Lingen Dairy Ice Cream | DJ: Dynamite Reflections Entertainment L.L.C | Day of Coordinator: Kristin with The Minnie Planner and Amy's Cherished Events | FLORIST: 651 Studio Floral | VENUE: Blacksmith Main aka Northern Pacific Center | CATERER: Clockwork Hospitality