There is something so calming about watching the sun rise in the mountains. It's a feeling not much else can compare to. The only other feeling comparable may be the warm breath of a horse on a foggy morning. Pamela and Michael got to experience both on their wedding day. On October 15th of 2023 they eloped at a ranch in Whitefish, Montana.
Clydesdale Outpost
When Pamela and Michael originally inquired about a late Fall elopement, they wanted lake views and mountains. They decided Glacier National Park was the perfect wedding destination for them. However, Michael's southern drawl and cowboy demeanor led me to finding this ranch, Clydesdale Outpost. It was only about 40 minutes from Glacier National Park so it seemed like the perfect fit to accommodate such a sweet, down-to-earth couple with a love for horses, lakes and mountains.
A boutique guest ranch experience with award-winning Clydesdale horses. Guests can interact with Clydesdales, relax in a private 2-bedroom luxury tiny cabin, look at the mountain views while soaking in a hot tub, and enjoy traditional guest ranch activities including horseback riding and carriage rides with our majestic Clydesdales.

WEBSITE HERE
Lake McDonald, Glacier National Park
We were all feeling pretty fulfilled after experiencing the breathtaking misty morning sunrise at the ranch and playing with the Clydesdale horses. Oh, and of course, GETTING MARRIED in such a sweet and intimate way… only us (photographer + videographer duo), them, and their family watching via zoom from a laptop propped up on an ironing board. Yes, we have to get creative sometimes!! But I talked them into making the short drive to Lake McDonald so they could at least experience the views they initially set out for. They decided to pack up their hiking bags and we all headed to Glacier National Park where we captured some pretty epic photos before the two of them went off to explore the mountains as a married couple!!
What was your favorite part of the wedding day?
Groom: Seeing my jaw-dropping wife for the first look. I'd been waiting my whole life for this moment.
Bride: When Sam with Xperience Photography told me my groom was outside tearing up waiting to see me for the first time. He tends to keep his emotions in and to hear that just melted me. After that, when it came to exchanging vows, we admittedly had not taken the time to pre-write them…Trisha with Xperience Photography guided us to start off by taking a few moments to use our senses to feel the moment…we closed our eyes and heard the birds chirping and the horses walking in the pasture, we felt and breathed in the coolness and stillness of the early morning cool air, we smelled each others cologne and perfume and the fallen leaves and hay and grass. It was a "Calgon take me away" commercial kind of feeling which we totally did again on our honeymoon during a hike in the woods in Glacier National Park! 
Any tips or advice for engaged couples?
Groom: Make the most of every day because tomorrow is not guaranteed.
Bride: The boutonnière you made may fall off your grooms shirt, you may fall off a horse (gracefully) and you may have a dog eat your wedding banner. Things may not go as planned, but just laugh those things off when they happen and it will become a great story to tell.
We would love to give a huge shout out to the following vendors!
Xperience Photography – for finding and recommending Clydesdale Outpost as our wedding venue, for fantastic collaboration and planning, for becoming our friends during the photo shoot, and for being simply amazing and accommodating to all that morning brought! 
Clydesdale Outpost (Whifefish, Montana) – for being our wedding venue, the beautiful cabin accommodations, and of course letting us play with the Clydesdale horses for our photo session! 
Tracie's Boots & Buckles (Wake Forest, NC) bride's cowgirl boots, grooms cowboy hat and bracelet.
Vow'd North Hills (Raleigh, NC) wedding dress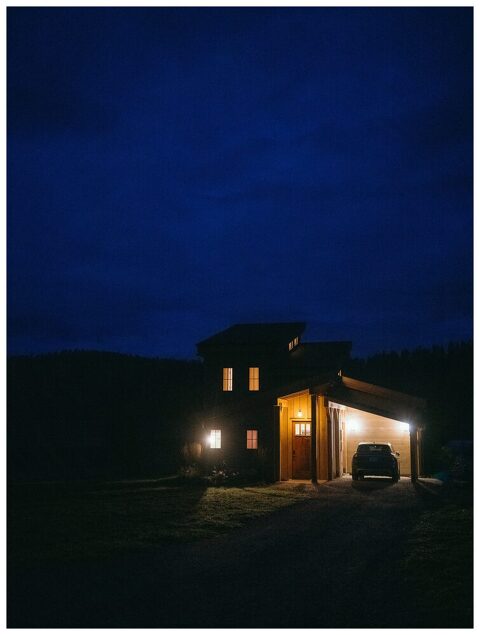 Hear how happy Michael was and feel the love in this short video from their elopement day…