Angela and Alex may not be avid golfers, but the Marshall Golf Course was the perfect wedding venue for them. It was close to home, had beautiful scenery for photos which Angela values, and delicious food!
We would definitely recommend the Marshall Golf Club to any couple for their special day! It was affordable, beautiful, had great food and was so easy to work with. Carlene made everything so easy on our wedding day! We had a few meetings leading up to the big day, and between meetings she was just a text away for all fine tuning questions. We got numerous compliments on the food, and they were so accommodating with people who had dietary needs. We had the luxury to set up the day before which relieved a lot of stress and gave us the opportunity to set up the space exactly the way we wanted.   

Angela
What is your favorite part of the wedding day?
I kept my dress a complete secret from my Dad and Alex. I did a first look with both of them individually starting with Alex, and it was the best decision I think I made for our wedding day. Seeing their reaction in private before the ceremony was something I will cherish forever. I have only seen my father cry a handful of times, and seeing me in my dress definitely got him good. 
We both enjoyed the short bursts of time we spent alone with just the photographer. It was a quiet, natural moment we could reflect on the day we were having and share the stories we separately collected when mingling with family and friends.  
Any tips or advice for engaged couples
Don't rush an engagement, COVID prolonged our plans, but it really made us slow down and enjoy the process. 
Listen to your partner even when you are worn out and don't want to listen. Your relationship will grow so much. 
Honeymoon plans
Hawaii babii!!!!
Goals for married life…
Build the strongest foundation with honest and eye to eye conversations about what is important to each of us. Have a couple strong, smart, well-mannered, and caring kids. Be debt free including the house. Leave a legacy for our kids both with financial stability and morality. Own a lake house.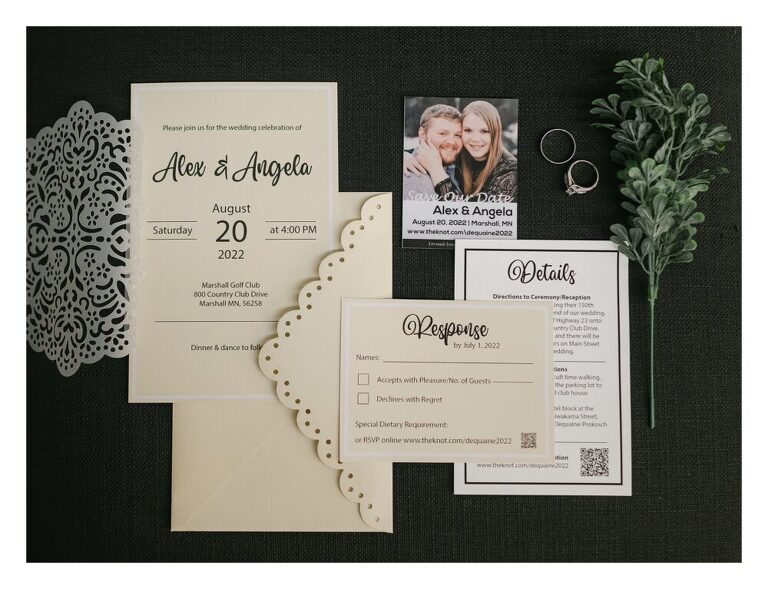 MINNESOTA WEDDING VENDORS
Photographer | XSPERIENCE PHOTOGRAPHY
Venue | MARSHALL GOLF COURSE
DJ: Hepatitis D Productions
Dave is a friend of ours who just happens to be a great DJ. He is so passionate about what he does and is super easy to work with. He is great at reading the crowd and knows exactly what songs to play to keep the people dancing all night long. 
Flowers: DIY
We were able to save a bunch of money and stress by working on flowers ahead of time. We bought Sola Wood flowers online and got the greenery from various craft stores. Angela had some help from her friend Rhiannon to soften the wood flowers. After softened, Angela and her Mom worked diligently on the flowers over the year leading up to the big day. 
Cake/Cupcakes: Kathy Vik (Aunt of Angela's) 
She plans on opening up a dessert business when she retires from her full time job. The name of the business is still in the works, but the quality of the cake and cupcakes were unbeatable. The rhubarb cupcakes were definitely the crowd favorite with only one to spare for the next morning.     
Suites: Mister Cool's Clothing in Marshall, MN 
We would have not even thought of going anywhere else but Mister Cool's. They are a small locally owned business that has been serving Marshall for many years. Their stuff is always high quality for a great price. They are super organized and everyone had everything they needed to look their best in time even with the supply chain issues associated with post COVID. 
Hair & Makeup: The Escape Spa in Marshall, MN
Highly recommend the Escape Spa for hair and makeup. I was super nervous because I ran out of time to do a trial before the wedding, but everything turned out better than I could have imagined.