Phew…this is a long one. But every moment was filled with love and laughter from beginning to end and I just had to share it thoroughly. Haley and Carter hosted their wedding at The Barn At Stoney Hills in Cushing, Minnesota. They wanted a Destination Wedding vibe, while staying here in Minnesota. They rented the home for the weekend and they along with their wedding party and family camped out and celebrated!
THE WEDDING DAY TIMELINE
They started the morning separate, but close by. Literally just a door away in the cozy getting ready cabin. The girls danced and sang, and loved every single moment a wedding day presents. The guys were having a good ole time too. At least I think because one groomsmen had already split his pants by the time I entered!!
After getting ready Haley had her first look with her Dad. Being the only daughter it was a special time. Tears, hugs and nothing but love for those two!! I wasn't sure if Carter could live up to it, but he was equally as happy to see his gorgeous bride for the first time. I think EVERY person deserves someone who will look at them with as much love and respect as these two look at each other. It's truly inspiring.
We took a few wedding party photos before heading to the Church in Little Falls, Mn. The ceremony was short but sweet. It was every bit as enduring as your favorite love story.
After the ceremony you can guess it… fun, fun and more fun!! Dinner, drinks, beanbags, football, speeches and dancing. Oh and the bouquet toss is a fun little story shared here so make sure you don't scroll past those;)
WHAT DID YOU ENJOY MOST ABOUT YOUR WEDDING AT THE BARN AT STONEY HILLS IN CUSHING MINNESOTA?
We loved the moment when the whole wedding party came together. Our Grand Entrance into the reception and the dance were also highlights. Which doesn't surprise us at all because those were the big moments we were surrounded by all of our favorite people!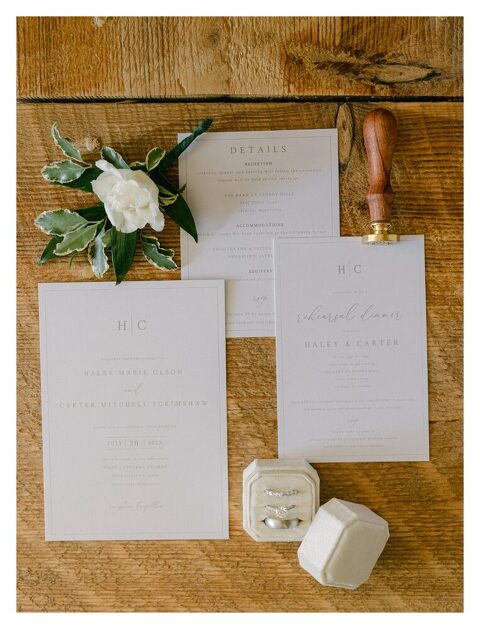 MINNESOTA WEDDING VENDORS
photographer | XSPERIENCE PHOTOGRAPHY
northern mn wedding venue | THE BARN AT STONEY HILLS, CUSHING MN
Videographer | BRIGHT HOUSE WEDDING
Hair & Makeup: BLISS SALON (Pequot Lakes)
Florist: THE PETAL (Grey Eagle)
DJ: MIDWEST SOUND
Caterer: CORNERSTONE CATERING (Melrose)
Bartenders: MN SCHOOL OF BARTENDING
Wedding Dress: JACKIE J'S (Alexandria)
Bridesmaid and Flower Girl Dresses: DAVID'S BRIDAL
Suits: KNIGHTS MENSWEAR (Rochester)