Mia and Matt had the sweetest wedding at Gooseberry Falls State Park in Two Harbors, Minnesota. It began at Bell Sheep Homestead just a few miles north of the iconic Gooseberry Falls. They rented the whole place so they had it all to themselves and their 8 guests. Two of the adorable guests were their children, but even they had their own room attached to Mia and Matt's.
Gooseberry Falls Lakeview Shelter
After getting ready we all made our way to the Lakeview Picnic Shelter. It was perfectly decorated by Lulu Collective using their gorgeous florals and rentals from The Vault in Duluth. We were extremely grateful to have that intimate space for dinner and dancing because it would have been a chilly picnic outside in the rain! Blackwoods Catering made it extra special with their on-site services and 4 course meal. Yum!!
Our wedding story:
Matt and I met in 1998 at orientation when we transferred to the same college in Chicago for our sophomore year. We rarely talked for more than a few minutes at a time despite going to the same parties and both moving back to Minnesota – until a weekend camping trip with mutual friends in 2012. Hours around a fire, we got to see new sides of each other. When we were back home, Matt invited me to a Twins game. Not knowing if it was a date or as friends, I tried to play it cool. We stopped at a brewery in the morning before the game and rode our bikes to Gold Medal Park afterward. We read poems to each other in the grass but never even grazed the other's arm. It was fun and confusing trying to figure out if there was a shared interest. We biked further down the Mississippi to get dinner at the Birchwood. I think maybe his eyes gave me a sparkle. From there we stopped by my sister's house nearby and had a glass of wine around a fire with her in the backyard. At the end of the night we kissed, and I finally knew – after fourteen hours – that it was a date. Each year on our anniversary, we recreate all or parts of the day. 

Mia
Rainy Gooseberry Falls State Park Wedding Overlooking Lake Superior
September 9, 2022 was our ten-year first date anniversary and our wedding day. We included an e.e. Cummings poem we read at the park in our ceremony. We stayed up late around a fire. We had our two beautiful children, two witnesses and our officiant – all dear friends – and their people with us for an intimate day filled with the wonder of nature, exquisite orchids, adventure and love. It rained. It was real life. The full harvest moon that would have risen up over Lake Superior during our sunset vows on the lava flows was clouded by the heavens reaching for the water. And it was perfect with clear water on the falls, waves that rinsed a muddy skirt, tender eyes that held me as I squeaked through tears of joy to say our vows. With this ring, I thee wed and pledge you my love now and forever.

Mia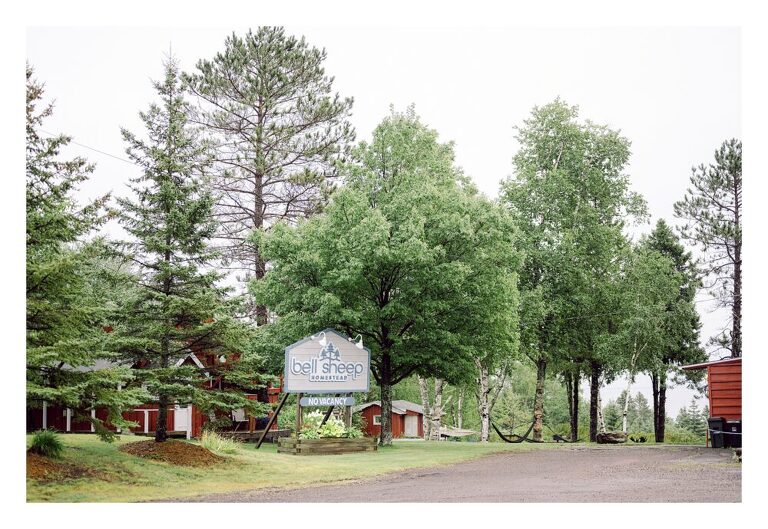 MINNESOTA NORTH SHORE WEDDING VENDORS
Photography | XSPERIENCE PHOTOGRAPHY, Little Falls, MN
Video | GINA TORRES
Flowers | LULU COLLECTIVE, Duluth MN @lulucollective_
HMUA | @Nik_jean_hairartist
Rentals | THE VAULT @thevaultduluth
Venue | GOOSEBERRY FALLS STATE PARK, TWO HARBORS, MN (Lakeview Shelter)
Cake | @somethingsweetcakes
Catering | BLACKWOODS CATERING, Two Harbors, MN @bwgcatering
Lodging | BELL SHEEP HOMESTEAD, Two Harbors, MN @bell_sheep_homestead