Karina and Colt wanted their wedding to be focused on their relationship and Christ so a simple Duluth Elopement spoke to their hearts. They headed to a private spot on the North Shore where they did just that. It was them, their dog, the sound of the waves and the sweet words of affirmation. Nothing more. Nothing less. It was the perfect moment for the sweetest couple.
What was your favorite part of eloping in Duluth?
Our favorite part of our wedding day was spending the whole day with each other. We got to drive up to Duluth together, read our vows in privacy, go out to eat and end with some fun at the arcade. It truly felt like a date, but with special clothes! The whole day was about us and God, with no distractions. 
Why did you choose the North Shore of Minnesota for your elopement?
We originally chose Split Rock State Park for our location because of how epic it is there. We knew it would give us some great photos. However I had a hair malfunction and had to improvise in order to catch the daylight so we chose a spot a bit closer to Duluth.
This particular spot on the North Shore is a place that we try to visit each time we head up North. It was the first (and only) place Colt dipped his feet in Lake Superior, and where we sat on the beach and talked about our wedding "someday". From a sentimental standpoint, it was much better than our original location.
Why did you want to elope vs have a big wedding?
Our goal was for our day to be intimate/private and to have phenomenal images to remember the rest of our lives!
Advice to couples wanting to elope…
Plan your wedding the way you want it, and don't focus or worry about other peoples opinion of how they think your wedding day should look.
What are your honeymoon plans?
Honeymoon plans: We are planning on going on a trip to D.C. and the East Coast next summer. We've never been to D.C. so we're psyched, plus we are also excited to see some places I (Karina) vacationed as a child with our little family.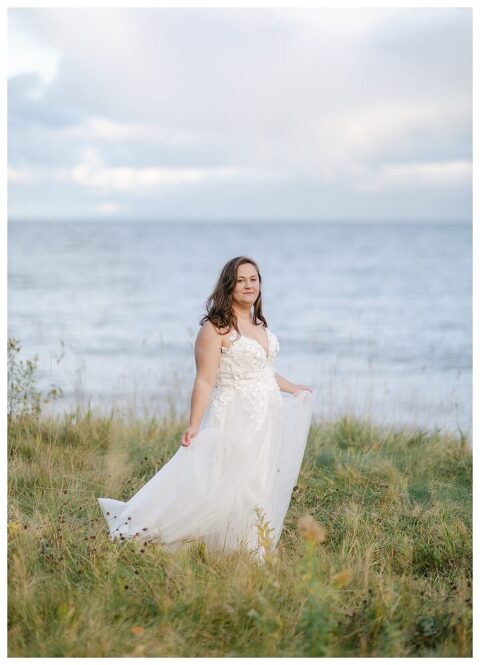 Photography | XSPERIENCE PHOTOGRAPHY, Associate Photographer Sam Kuklok