Of all the weddings I've witnessed the past two decades, this one, right here, is honestly one of the most heartfelt weddings I've had the privilege of documenting. Addie and Trevor hosted an intimate and fun-filled destination wedding on Madeline Island. From beginning to end, every moment was intentional and felt. Love was at the center of every word, every hug, every tear and every laugh. And let me tell you…there was a lot of all that!
Madeline Island
Madeline Island is the largest Island of the Apostle Islands in Lake Superior. You arrive by a ferry that departs from the quaint "sea-side" town, Bayfield, Wisconsin. Addie and Trevor chose Madeline Island for their destination wedding venue/location because it has always been a special part of their relationship.
My grandparents built a cabin on the island when I was just a little girl. We would come up and stay in the cabin during breaks from school, always making a point to go to the pool at the Inn on Madeline Island. My little sister and I would sit in the hot tub and watch weddings year after year on the lawn there. When I started dating Trevor, we'd come visit the island with our friend group. It was like a mini vacation — an escape if you will. We'd cliff jump at the state park, roast marshmallows around a campfire and just talk, get to know each other. The long weekend's we spent at the island held some of the most important conversations. There was no hustle and bustle of the real world, no worrying about what work was waiting for us at home, just pure connection, getting to know one another. When we were deciding where we would get married, Madeline Island was an easy decision. In the same ways the island was special for us growing up, it was special for us on our wedding day. All of our closest family and friends gathered to celebrate our marriage. Each moment of wedding day was so intentional. Each person that attended made such an impact on our lives. Everyone was able to fully immerse themselves in the charm of the island. 

Addie
The Wedding Day on The Island
My goal for wedding day was to really take in every single moment, to slow down and remember exactly how each moment felt. 

Addie
Oh how we all long for more of that in our lives. So often I hear this as the number one goal from the bride. And so often, I see it slip away in the midst of the chaos, stress and demanding timeline. I personally did not get to document this day because I was off photographing an elopement in Montana, but Sam, my Associate filled my shoes. And filled them perfectly I must add;) She immediately sent me a text following the wedding and said, "seriously THE BEST WEDDING I have every attended or been a part of! Every part of it was meaningful and enjoyed. It will be tough to ever photograph a traditional wedding again after this one." I wasn't surprised as I instantly felt good energy when speaking to Addie on the phone and hearing her vision and goals for the day. Then my feeling was reconfirmed when I spent the day with them on the Island for their engagement session. They genuinely love each other, and life, and it shows in every breath. The Universe certainly knew what it was doing when it brought these two together.
The bride shares her favorite moments…
The morning of the wedding was so special. I got to spend it with my bridesmaids, mom, and grandmother. Trevor got to spend his morning with his groomsmen. But our favorite part of the wedding day was our first look at Big Bay State Park. Our coordinator and photographer helped make the moment private and so meaningful. Trevor was out on the cliffs. I walked down the steps and stood behind him, tapped his shoulder, he turned around, and it was as if the rest of the world disappeared. That moment was so meaningful. The first look at your almost husband/wife. We worked so hard to get to this day, spent all morning getting dressed up, and then the moment we saw each other, the world stood still. 

Addie
Trevor's Dad, Dustin, was the officiant for the wedding. He is a 27 year veteran in the Navy. Early on in the process, he has asked if he could wear his Navy Whites to officiate. Everyone kept it a secret from Trevor. On the wedding day, right before walking down the aisle, he revealed his surprise to Trevor. It was an incredibly emotional moment for everyone in the room. 
Advice from the bride to newly engaged couples…
For the bride planning her wedding right now, my best advice would be to include your fiancee. I was so pleasantly surprised by how involved Trevor wanted to be. He was creative and enthusiastic about wedding planning. It took the weight off my shoulders and made wedding planning exciting! We'd take walks in the evenings and just go through our plans, any updates, what each of us could do to help the other.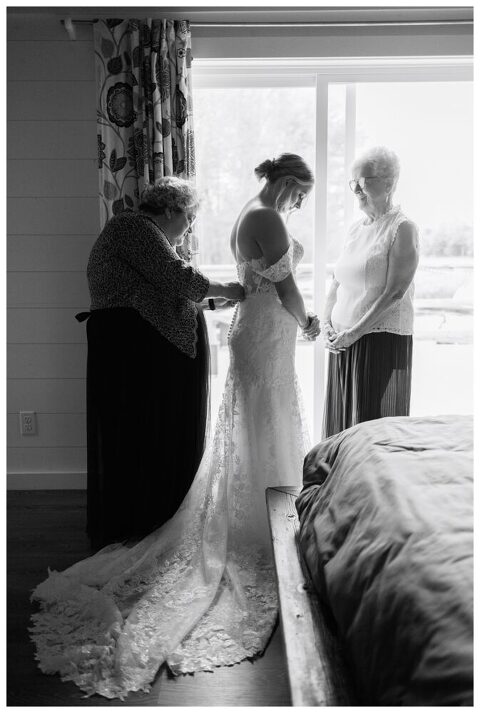 Madeline Island Wedding Vendors
Photographer | XSPERIENCE PHOTOGRAPHY, based in Little Falls, MN but travels worldwide.
Planner | LACE AND BRASS EVENTS, Bayfield, Wisconsin
Venue | THE INN ON MADELINE ISLAND
Florals | WILD HOLLOW FARM, Ashland, Wisconsin
HMUA | NORTHERN BRIDAL ARTISTRY, northern WI and Michigan's Upper Peninsula
Photographer lodging | SEAGULL BAY MOTEL, Bayfield, Wisconsin